Welcome to Stacking the Shelves. Stacking the Shelves is a weekly meme hosted by Tynga at
Tynga's Reviews
. This is where we showcase books we have received or bought during the week.
This week surpassed all my bookish expectations. I received way more books than I was expecting, I got hired as a personal assistant for an author of mine (which means more money for me--health insurance!!), and I'm planning to start a new discussion post feature in a couple of weeks. I could do it this week, but my plate is already super full and I have posts planned already. So this will be the last week for Waiting on Wednesday, I think.
Purchased:
Shadows
by Robin McKinley
Perfect Ruin (The Internment Chronicles)
by Lauren DeStefano
I used my birthday gift card from Pixie to purchase these. I still paid 29.00 but at least I got ten dollars off. The husband does not agree. Haha.
Won:
Doon by Carey Corp, Lorie Langdon
Aquifer
by Jonathan Friesen
Running Lean
by Diana L. Sharples
I won this from Nafiza at Bibliophilic Monologues. I haven't won a giveaway in so long, so that was really nice. I don't enter many, and I also have really shitty luck. It might be another year before I win again. :P
For Review:
Cress (The Lunar Chronicles)
by Marissa Meyer
Thank you to Macmillan Children's Publishing for this one. I cannot wait to read this book! I am definitely bumping it up in my schedule since I am so far behind!
Gifted:
Killing Woods, The
by Lucy Christopher
Thanks for this lovely UK copy from Amber at Books of Amber! She knew how badly I wanted it and it doesn't come out until January here, so that's even better. Also, the UK cover is SO MUCH better than the one they picked for the US version.
E-books: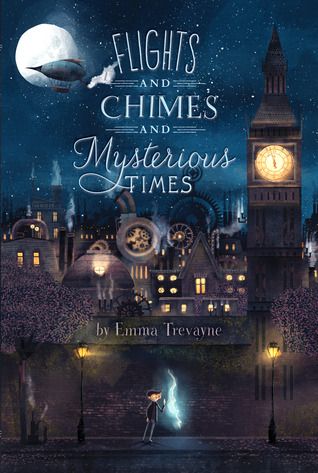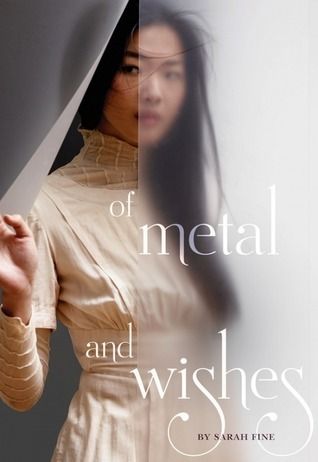 Flights and Chimes and Mysterious Times by Emma Trevayne
Of Metal And Wishes Sarah Fine
Thank you to Simon and Schuster for these Edelweiss approvals.
Lyn's Books
I finally decided it was time to stop hoarding my collection and share what I have obsessively bought over the last three weeks. Work-wise, I wish I was in a better place, but I try to keep myself in check. I am recovered from bronchitis and an upper respiratory infection from two weeks ago. Someone in my workplace confirmed positive for strep, so this weekend will be filled with rest and a lot of vitamin C!
I appreciate the comments and the Twitter feedback. I adore all of you, and I hope to get caught up on comments and blogs over the weekend.
That is all I really have - I live a very boring life!
Also, I am super excited for my co-blogger! I am so happy for you, Kara!!
Books: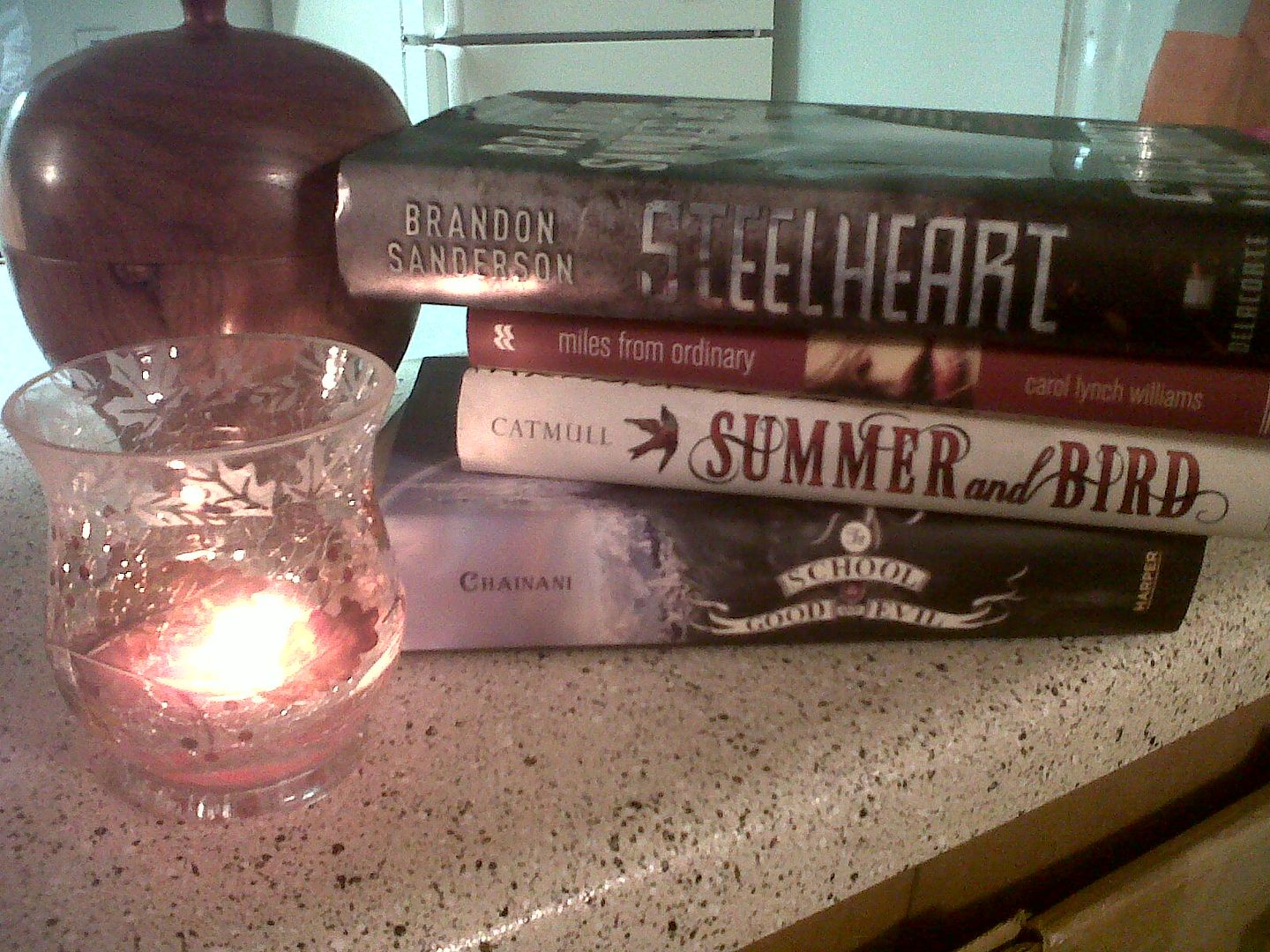 Steelheart by Brandon Sanderson
Miles from Ordinary by Carol Lynch Williams
Summer and Bird by Katherine Catmull
The School for Good and Evil by Soman Chainani
Kindle Books: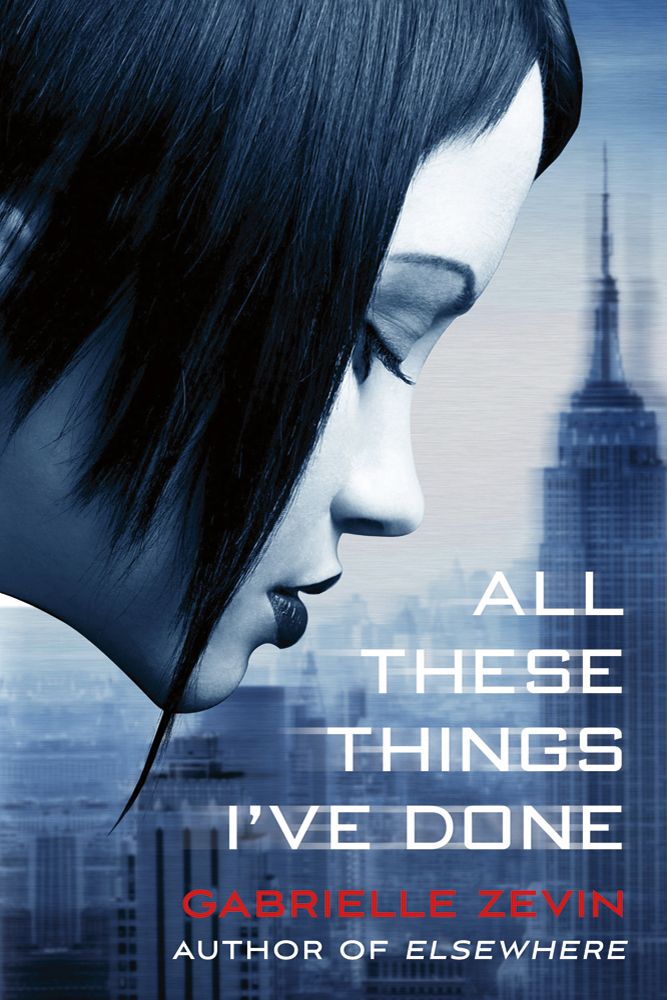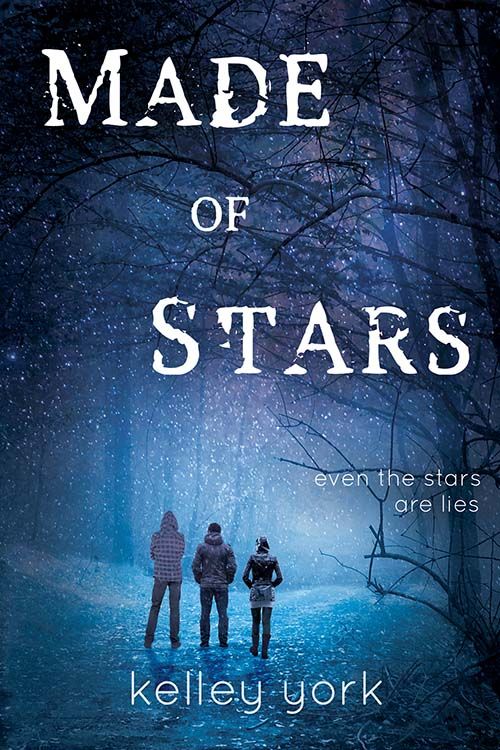 All These Things I've Done by Gabrielle Zevin
Made of Stars by Kelley York
ARCs:
Provided by NetGalley - Thank you!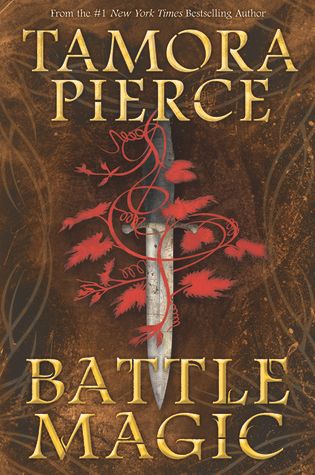 Battle Magic by Tamora Pierce
On the blog this week:
Kara reviewed Engines of the Broken World on Monday and did not enjoy it at all.
We skipped Top Ten Tuesday this week for a fun Teaser Tuesday of the books we were currently reading.
Wednesday, Lyn and I discussed pet adoption and our love for our animals.
Kara posted a cover reveal for What Remains by Nicole R. Taylor on Thursday, and there was also a review for Antigoddess by Kendare Blake. Meh. It's been a bad reading week for Kara.
Finally, on Friday Lyn posted a group review for Amelia Anne is Dead and Gone by Kat Rosenfield, featuring Jessie from Ageless Pages Reviews and Pixie at The Bookaholic.
Links We Love:
Kelley at Another Novel Read has a discussion post about commenting and the comment exchange.
Librarian Shaming is so great!
This awesome interview with Kendare Blake.
Jamie at The Perpetual Page Turner's In Memory of Lost Books.
Book Rock Betty talks about Mr Betty in He Makes Me Laugh So Hard I Feel Like I Need to Puke.
And Gillian at Writer of Wrongs has this awesome post where she sorts book characters into Hogwart's Houses.