Publisher: St. Martin's Pres
Release Date: September 10th, 2013
Pages: 433
Genre: Young Adult-Contemporary
Source: I received a physical ARC at BEA and an e-galley via NetGalley in exchange for an honest review.
Publisher's Blurb: Cath is a Simon Snow fan.
Okay, the whole world is a Simon Snow fan . . .

But for Cath, being a fan is her life — and she's really good at it. She and her twin sister, Wren, ensconced themselves in the Simon Snow series when they were just kids; it's what got them through their mother leaving.

Reading. Rereading. Hanging out in Simon Snow forums, writing Simon Snow fan fiction, dressing up like the characters for every movie premiere.

Cath's sister has mostly grown away from fandom, but Cath can't let go. She doesn't want to.

Now that they're going to college, Wren has told Cath she doesn't want to be roommates. Cath is on her own, completely outside of her comfort zone. She's got a surly roommate with a charming, always-around boyfriend, a fiction-writing professor who thinks fan fiction is the end of the civilized world, a handsome classmate who only wants to talk about words . . . And she can't stop worrying about her dad, who's loving and fragile and has never really been alone.

For Cath, the question is: Can she do this?

Can she make it without Wren holding her hand? Is she ready to start living her own life? Writing her own stories?

And does she even want to move on if it means leaving Simon Snow behind?
Fangirl and I did not get off to a great start. Our relationship was rocky. I was worried we weren't going to mesh well. I didn't like the characters, particularly Cath. She made me all
And it was rough because I felt REALLY bad for not liking her because we had so many things in common. She's a huge reader--HUGE. She has anxiety issues, she's a bit agoraphobic, antisocial, and she doesn't like going places that are out of her comfort zone. It was super easy to put myself in Cath's shoes, and so not meshing with her personality was extremely difficult for me. I sort of felt like I was hating myself. But she was SOOOO negative. Nothing she ever said was positive or upbeat. It was as if she was content to go through life being miserable. And I'm not down with that.
Then there was Levi, who I loved. But because I didn't like Cath and he was all, "Cath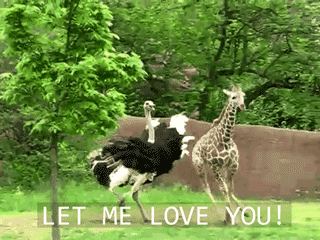 I was not amused. I liked him and thought he deserved way better. Not to mention, going into this book I thought it was going to be more than just college and fan fiction. But with the exception of Cath's family issues, that's all it was. For most people I think this topic is not an issue. But for me, partly because I never had the go away to college experience, I had a tough time relating to the dorm drama that Cath and Wren went through. Even though the book was written well, I did a lot of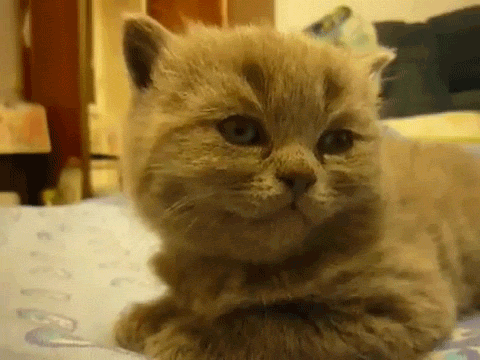 which I know is totally just a personal thing and life experiences often determine how we relate to a book. Cute kittens for the win! But then, somewhere around the halfway mark, I found myself liking it more. Perhaps it's because I finally fell for Levi. Or maybe it was because I absolutely adored Reagan and Cath/Wren's dad. Maybe I started to understand Cath more and why she was the way she was. Her mother messed her up. How our parents raise (or don't raise us) are going to impact us for the rest of our lives. And this is another thing I can DEFINITELY relate to. Cath escaped into the Simon Snow fandom because that is where her comfort zone was. My blog and books are my comfort zone. As I got to know Cath and her reasons for living the way she was, I started to understand her more. I don't think I will ever love the girl--or this book, for that matter--but I understand her/it and their reason for being. Does that make sense?
I feel like Rainbow Rowell wrote about anxiety and bipolar disorder in a very relatable and accurate way. I worry that someone who hasn't dealt with mental health disorders is going to maybe have trouble, but maybe not. I was reading it through a different lens because I HAVE been touched by these issues. That said, I think the author wrote about topics that aren't touched often in fiction, particularly YA fiction and I give her major accolades for that. I also thought the way she handled Cath and Levi's developing romance was realistic and awkward in all its teenage shyness and I loved it. There were a few moments where it tipped the scale into corny territory but I loved it just the same.
As for the fan fiction aspects of the book?
Brilliant. I can tell she did her research well, was a part of a fandom at some point, and probably left her mark there. I felt it in Cath's emotions, in Wren's love for her sister, and in some of the final scenes that I really freaking WISH I could talk about. I was never a huge part of any fandom, but I did read a lot of Twilight fanfic back in the day so I get it, and I do think she captured it well.
So in the end, while I don't think Fangirl will ever be a favorite book of mine, I have to give the author major credit for her exceptional handling of some tough topics, her original characters, storyline, and lovely writing. The dialogue was seriously excellent. This was my first experience with a Rainbow Rowell book and it most certainly will not be my last.
4/5 Dragons
Fangirl on Amazon